Living an Orthodox Life: Spiritual Guidance in the World
Spiritual Fatherhood
The conclusion that emerges from this brief walk through the meadows of our ecclesiastical tradition is as follows: it is our responsibility to have a permanent and steady spiritual father. At the same time, we have the right to choose the most appropriate one for us, not the most accommodating, but the most experienced and seasoned, a true man of God in whose presence we'll find spiritual rest and security. St. Symeon observes something that holds true in our days. Those who know "to guide well and cure the logical souls" are rare at every season (Catech. 20, sections 104, 346).
This is precisely why we must take the necessary measures in our selection process. We need to pray fervently so that God will find us worth of this great gift. The same teacher writes, "With prayer and tears, keep pleading with God to send you a holy and passionless guide," a guide for our journey to the heavenly kingdom.
—From the conclusion of The Spiritual Father According to Orthodox Tradition, by Father Symeon Koutsas.
In the spiritual life, the role of Ananias is played by a good spiritual father. The spiritual father is the "hand" of God that guides us to God's kingdom. The spiritual father is very important in the life of an Orthodox Christian. However, it is not enough simply to have one. It is also necessary to have a genuine spiritual relationship with him. This is the way to a blossoming spiritual life. These matters will be touched upon in this book.
—From the Prologue to The Spiritual Father, by Archimandrite Vassilios Bakoyannis.
Prayer to Find a Spiritual Father: "O Lord, who desirest not the death of a sinner but that he should turn and live, Thou who didst come down to earth in order to restore life to those lying dead through sin and in order to make them worthy of seeing Thee the true light as far as that is possible to man, send me a man who knows Thee, so that in serving him and subjecting myself to him with all my strength, as to Thee, and in doing Thy will in his, I may please Thee the only true God, and so that even I, a sinner, may be worthy of Thy Kingdom".
—St. Symeon the New Theologian (SC 129,186-188). From Orthodox Psychotherapy" by Metropolitan Hierotheos of Nafpaktos.
The Spiritual Father in Orthodox Christianity, by Bishop Kallistos Ware.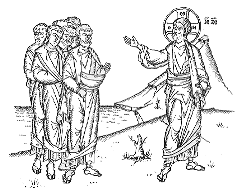 "Understandest thou what thou readest?" The Place and Importance of Spiritual Direction, by Priest Alexey Young (now Hieromonk Ambrose).
On Being a Spiritual Father in Our Times, by Archpriest Valery Lukianov.
Confession and Repentance: A Talk Given by Fr. Josiah Trenham at the 2006 Antiochian Clergy Conference (Diocese of the West).
Pastoral Guidance - Chapter 84 from Father Seraphim Rose: His Life and Works, by Hieromonk Damascene.
Introduction to Precious Vessels of the Holy Spirit: The Lives & Counsels of Contemporary Elders of Greece.
Excerpts from Paternal Counsels, Vol. I and II, by St. Philotheos Zervakos. There are some relevant excerpts concerning spiritual fatherhood.
Metropolitan Anthony as a Teacher of Pastorship, by Protopresbyter G. Grabbe.
A Discourse for Those Living in the World, by Dr. Constantine Cavarnos.
Obedience and the Layman, by Fr. Alexey Young (now Hieromonk Ambrose).
Counsels from Contemporary Romanian Elders: To Laypeople, Monastics, and Clergy. From The Orthodox Word (Jan-Feb, 1992).
My Work With English-Speaking Converts: An Interview with Fr. Artemy Vladimirov. Look for Part I of a superb three-part interview of this wise and experienced Priest of the Russian Orthodox Church. It was originally published in the Orthodox journal, Road to Emmaus (view other articles in past issues). This interview touches on many aspects of the spiritual fatherhood of laypeople.
Guidance for Laymen on Reading Spiritual Books. From the Letters of Archbishop Theophan of Poltava and Pereyaslavka.
Very Valuable Readings. An excerpt from Man's Spiritual Evolution by Dr. Constantine Cavarnos concerning which patristic writings lay people should read.
Elder Barsanuphius of Optina: Talks with Spiritual Children, by Fr. Victor Afanasiev. Part I | Part II. These installments are from this wonderful book in The Optina Elders Series. The Optina Elders are especially significant for our day as they essentially lived in modern times. They had tremendous impact on Russian society, influencing many people from all walks of life—young, old, rich, poor, lay, clergy and monastic. These talks were selected for publication on this Web site due to their special appropriateness for lay people struggling to live an Orthodox life in the world.
Two Letters from Elder Moses of Optina, to His Brother Living in the World.
On the World and Family, by Elder Ephraim.
Discerning the Will of God
Discerning and Doing God's Will by Remembering Him in a World of Distraction, by Mother Dorothea of St. Xenia Skete, Wildwood, CA.
On the Will of God, by Staretz Silouan.
Articles on the Will of God, from the Orthodox America Web site.
"A soul that is troubled about anything should inquire of the Lord and the Lord will give understanding, but this primarily in times of calamity and bewilderment. As a general rule we should be advised by our spiritual father, for this is a humbler way.... We must always pray to the Lord to tell us what to do, and the Lord will not let us go astray.... So with all the saints who sinned: they sinned because they had not called upon God to enlighten and help them.... Thus the Lord alone is omniscient, and each one of us, whoever he may be, must pray to God for understanding, and consult his spiritual father, that we may avoid mistakes.... How clear it is to me that the Lord steers us. Without Him we cannot even think a good thing. Therefore we must humbly surrender ourselves to the will of God, that the Lord may guide us."
On the Will of God, by Staretz Silouan
"The difficult part for us to discern is whether things are according to our own will, or according to the will of God. When troubles or difficulties befall us in a situation, is it because we are not fulfilling God's will and He is trying to get our attention, or is it because we are doing the will of the Lord and the evil one is attacking?
"The fathers of the Church guide us in discerning the answer to this question. They tell us to look into our soul, and if the soul is agitated it is because we are doing our own will and not God's; if, however, in spite of the troubles, we find peace in our situation, then we are walking the path which the Lord has ordained for us."
"My Will Be Done", from The Veil, a publication of
Protection of the Holy Virgin Orthodox Monastery in Lake George, CO
Clergy & Laity Relations
The Place of the Bishop in the Orthodox Church, by Archimandrite Cyprian.
Obedience And Authority: Dimensions Of A Hierarchical Church, by Father John Chryssavgis. An excerpt from Soul Mending: The Art of Spiritual Direction.
Clergy and Laity in the Orthodox Church, by Fr. Alexander Schmemann.
On the Duty of the Flock Toward the Pastor, by St. Tikhon of Zadonsk.
Cultism and Extremism
Cults Within & Without, by Fr. Alexey Young (now Hieromonk Ambrose).
Monasticism & Cultism, by Hieromonk Akakios, Abbot of St. Gregory Palamas Monastery. A critique of "Cults Within & Without".
Cultism Within: A Rejoinder to Archimandrite Akakios, by Vladimir Moss.
Cultism Revisited: A Corrective to Mr. Moss's Rejoinder, by Bishop Auxentios and Hieromonk Gregory.
Cults and Cultism in American Religion, by Fr. Joseph Miller.
Orthodoxy and Extremism, by Riassophore-nun Paisia (Reid).
Recommended Books and Articles
"Mature Fruit and Bright Faith: Spiritual Fathers in Contemporary Orthodoxy". This is an interview with Father Artemy Vladimirov in the Summer, 2008 edition (Vol. IX, No. 3) of Road to Emmaus. This outstanding interview should be read by all Orthodox Christians. Father Artemy has been interviewed several times before, and what he has to say is always very instructive and patristic.
The Spiritual Father According to Orthodox Tradition, by Father Symeon Koutsas. Trans. by Constantine Zalalas (Bethlehem, PA: Saint Nikodemos Publications). A short monograph that nicely complements The Spiritual Father by Archimandrite Vassilios.
The Spiritual Father, by Archimandrite Vassilios Bakoyannis (Athens: Orthodox Book Centre, 2005). Highly recommended as a general, introductory treatise for laymen.
The Priest as Spiritual Father, by Dr. Constantine Cavarnos.
I Love Therefore I Am: The Theological Legacy of Archimandrite Sophrony, by Hieromonk Nikolai (Nicholas V. Sakharov). Chapter 8, "Obedience" (pp. 199-221). I have only read this one superb chapter on obedience and spiritual guidance, so I do not know anything about the rest of the book. Suffice to say, however, that this chapter alone is well worth the price of the book.
Soul Mending: The Art of Spiritual Direction, by John Chryssavgis. The entire book is worth reading, but Chapter VII on "Obedience and Authority" is online.
Spiritual Direction in the Early Christian East, by Irénée Hausherr, SJ. This is from a Roman Catholic perspective, but the Foreward, entitled "The Spiritual Father in Saint John Climacus and Saint Symeon the New Theologian," was written by Bishop Kallistos Ware. This book was also recommended in the Introduction to Precious Vessels of the Holy Spirit. It contains a number of insightful chapters based on the writings of the Holy Fathers, including "The Qualities Needed to be a Spiritual Father", "The Duties of the Disciple" and "The Spiritual Direction of Lay Persons".
Father Seraphim Rose: His Life and Works, by Hieromonk Damascene (Platina, CA: St. Herman Press, 2003). See especially Ch. 84 on pastoral guidance. A good companion to this book is Letters from Father Seraphim: The Twelve-Year Correspondence Between Fr. Seraphim Rose and Fr. Alexey Young (Richfield Springs, NY: Nikodemos Orthodox Publication Society, 2001).
Russian Letters of Spiritual Direction, 1843-1860, by Macarius, Starets of Optina. The entire text appears to be online. This is one of the most edifying books for laypeople I have ever read. It's full of Patristic gems that are highly relevant to living in the world as an Orthodox Christian. See esp. the first section entitled "Blessed are the poor in spirit...". It contains numerous excerpts related to spiritual guidance and discerning God's will.
Saints Barsanuphius and John: Guidance Toward the Spiritual Life. Selected answers to the questions of disciples, collected and translated by Fr. Seraphim Rose. This book is mentioned in the essay on spiritual fatherhood by Bishop Kallistos Ware.
The Spiritual Life and How to Be Attuned to It, by St. Theophan the Recluse (Platina, CA: St. Herman Press, 1996). This is a spiritual classic consisting of eighty letters from St. Theophan to a Muscovite high society girl who eventually becomes a nun.
Selected Letters, by Archbishop Theophan of Poltava (Liberty, TN: St. John of Kronstadt Press, 1989). Includes a memorial address by Archbishop Averky.
May God Give You Wisdom: The Letters of Fr. John Krestiankin (Wildwood, CA: St. Xenia Skete, 2007). His writings are a great example of how a Spiritual Father should firmly yet lovingly guides his spiritual children, always respecting their free will. He writes, "No one can decide our important life decisions for us; even in former times, elders did not command God's inheritance..... There can be no commanding in spiritual life." Read more about Fr. John in the wonderful book Everday Saints and Other Stories.
Letters to Spiritual Children, by Abbot Nikon (Richfield Springs, NY: Nikodemos Orthodox Publication Society, 1997).

But let us therefore learn to make maximum use of the limited opportunities we do have (which still, after all, are "heaven on earth" if compared to the worldly life of today!), not demolishing our few remaining Orthodox communities with self-centered and idle criticism, nor unsettling ourselves and others by dreams of impossibly perfect communities....
Our times, above all, call for humble and quiet labors, with love and sympathy for other strugglers on the path of the Orthodox spiritual life and a deep resolve that does not become discouraged because the atmosphere is unfavorable. We Christians of the latter times are still called to work persistently on ourselves, to be obedient to spiritual fathers and authorities, to lead an orderly life with at least a minimum of spiritual discipline and with regular reading of the Orthodox spiritual literature which Blessed Paisius was chiefly responsible for handing down to our times, to watch over our own sins and failings and not judge others. If we do this, even in our terrible times, we may have hope—in God's mercy—of the salvation of our souls. Perhaps the chief function of the Life of Blessed Paisius for us today is to give us the courage to endure the frightful anti-spiritual climate of our times; for as our Saviour has warned us, even in the last times when "the love of the many shall grow cold," he that endureth to the end shall be saved (Matt. 24:13).
Fr. Seraphim Rose, from the Introduction to Blessed Paisius Velichkovsky