General Information: Monasticism
Orthodox Christian Monasticism: An excellent overview from Decani Monastery in Kosovo.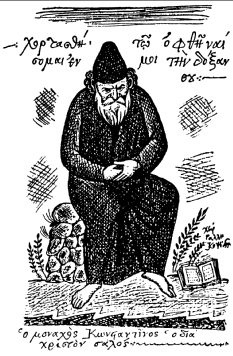 The Monk's Mission, by Elder Paisios the Athonite.
The Gospel Call to Monasticism, by Nun Brigid. The Introduction to Abbess Thaisia, An Autobiography. This is an excellent overview of the meaning and purpose of monasticism.
Monasticism in the 21st Century: A Viable Alternative or a Forgotten Ideal? By Mother Ephrosynia of the Convent of Lesna, France.
Two Letters from Elder Moses of Optina, to His Brother Living in the World.
Monastery and Convent Etiquette. From Chapter II of A Guide to Orthodox Life.
Living the Monastic Life in the World. From The Veil (Summer, 2005).
The Monastic Life: In Response to a Modernist Abbot's Observations. This article was added in part because it so eloquently lays out the relation between praxis and theoria. "By attention to externals, we affect internals; and by the restored internal state, external attributes are affected."
Metropolitan Theodosius on Monasticism. Concerning the Metropolitan's views about sexuality and monasticism.