General Information: Orthodoxy in America
Orthodoxy in the USA: Its Historical Past and Present, by Fr. Seraphim Rose.
The Synaxis of the Saints of North America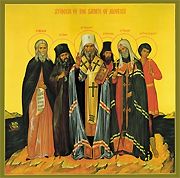 The Orthodox Church in America and Its Future, by Saint Nikolai Velimirovich.
In Step with Sts. Patrick and Gregory of Tours, by Fr. Seraphim Rose of Platina. A brilliant article wherein he critiques our modern culture and explains how Orthodox Christians can keep to the narrow path of salvation.
Cultural Paradosis and Orthodox America: from Contemporary Traditionalist Orthodox Thought.
The Search for Orthodoxy, by Hieromonk Seraphim Rose.
Personal Reminiscences of Father Seraphim Rose, by Hieromonk Ambrose (formerly Father Alexey Young).
American Salvation: The Place of Christianity in Public Life, by Albert J. Raboteau. From Boston Review (April/May 2005). "I was drawn in part by a sense of profound similarity between Orthodoxy and the ethos of African-American Christianity. In both there is a quality of sad joyfulness, a sense that life in a minor key is life as it is; an emphasis on the importance of suffering as a mark of the authenticity of faith." See also Professor Raboteau's book A Sorrowful Joy.
The Crisis, by Priest Andrew Phillips.
Problems of Orthodoxy in America, Part III: The Spiritual Problem, by Fr. Alexander Schmemann. A brilliant, must-read essay!
Archimandrite Sebastian Dabovich: Honoring an American Apostle, by Hieromonk Damascene.
The Malaise of America : Failing to Find God and Failing at Humanity, by Archbishop Chrysostomos.
Orthodox Jurisdictions in America: Fr. Alexander Lebedeff responds to a question raised about the history and disctinctives of the various jurisdictions in America.
Chapter 3, "Fasting and Contemporary Orthodoxy in the Americas", from Fasting in the Orthodox Church, by Archimandrite Akakios.
The Orthodox World-View, by Fr. Seraphim Rose
Let This Mind Be In You, by Father David Moser. Especially important for converts.
Orthodoxy In America: An online directory of the Orthodox Church in North America. This is the best parish and monastery directory I've seen. Please help them keep the database up-to-date by submitting/verifying your listing.
The Quest for Jurisdictional Unity and an Autocephalous Orthodox Church in America
Orthodox Reunion: Overcoming the Curse of Jurisdictionalism in America, by Fr. Josiah Trenham. If you only have time to read one article on this subject, this is the one!
Orthodox Christian Unity In America, by Fr. Stanley S. Harakas. The author refers to Fr. Josiah's article therein.
"The Illumined Heart" Podcast. See episodes on January 4 (Interview with Fr. Josiah Trenham) and January 18/25 (A two-part interview with Charles Ajalat. The interviewer, Kevin Allen, should be commended for arranging these interviews and for his penetrating questions arising from considerable knowledge of this subject.
The Problems of Orthodoxy in America, The Canonical Problem: by Fr. Alexander Schmemann. A brilliant article on the meaning of "canonicity" and the "canonical mess" in America.
St. Andrew House: A Pan-Orthodox institution dedicated to Orthodox Unity.
Prayer for Orthodox Unity
O All-Holy Trinity, Father, Son and Holy Spirit, we Thy faithful children beseech Thee to forgive us the sin of divisiveness, which is rooted in our hearts, our dioceses and our land. Implant in our lives the holy vine of unity which Thou only art able to bestow on those who have come together in Thy Name. Enlighten us with Thy Grace that we may come to the knowledge of Thy truth and move our hearts to respond with trust and total obedience to Thy Divine Will. Through the intercessions of the God-inspired Holy Fathers of the First Ecumenical Council at Nicaea, who in harmony decreed that there should be one hierarch in each city serving Thy faithful as a loving father serves his children—one shepherd over a united flock—we also praise Thy All-Holy Name. O Father Who is without beginning, O Son Who is eternal, and O Holy Spirit, the Giver of Life, illuminate the way and guide us all once again to unite Thy Holy Church. Amen.
Adapted from the prayer found on the St. Andrew House Web site.