General Information: The Church
The Church of Christ: The Concept of the Church of Christ on Earth, by Fr. Michael Pomazansky. An excerpt from Orthodox Dogmatic Theology.
Orthodox Ecclesiology in Outline: by Fr. George Dragas.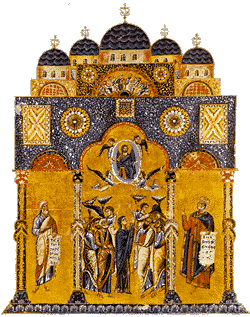 The Mind of the Orthodox Church, excerpts from the book by Metropolitan Hierotheos of Nafpatkos. Don't let the title mislead you. This book contains numerous chapters on the Church. A solid, Patristic work by one of the foremost Orthodox writers of our day.
The Attributes of the Church, by the Blessed Fr. Justin (Popovich). On the terms "one, holy, catholic, and apostolic"
On the Terms "Catholic" and "Soborny," by Alexei Khomiakov.
The Church As the Body of Christ: by St. John (Maximovitch) of San Francisco
The Church Is One, the famous essay by Alexei Khomiakov. For interaction with his essay consult Vladimir Lossky's Mystical Theology of the Eastern Church.
Orthodox Ecclesiology, by Dr. Alexander Kalomiros. Sections XXVIII-XXX from his book Against False Union.
The Church, the Treasury of Salvation: by St. John of Kronstadt
The Ecclesiology of St. Ignatius of Antioch, by Fr. John Romanides.
The House of the Father, by Fr. George Florovsky. An important essay on ecclesiology by a tremendous theologian of our times.
Christianity or the Church?, by Saint Ilarion (Troitsky), the Holy New Martyr. This is a modern classic about the essential interrelatedness between Christianity and the Church. His main premise: "Without the Church there is no Christianity."
Is There An Invisible Church?, by Protopresbyter Michael Pomazansky. This is much more an article on the Orthodox teaching concerning the Invisible Church and the Communion of Saints than a defense of the Visible Church.
Christian Unity As Viewed By the Eastern Orthodox Church: The Oberlin Statement.
The Anglican/Orthodox Pilgrim, Vol. 2, No. 4: The Nature of the Church, by Fr. Gregory Mathewes-Green.
The Inward Mission of Our Church: Bringing About Orthodoxy, by the Blessed Father Justin Popovich.
Recommended Books
Florovsky, Georges, Collected Works. vol. 1, Bible, Church, Tradition. Belmont, MA: Nordland, 1972-79. This little gem is under 100 pages and a superb treatment of the Eastern Orthodox perspective on these issues.
Rogers, Gregory, Apostolic Succession. Ben Lomond, CA: Conciliar Press, 1989. 40 pages. Clearly lays out the Biblical and patristic evidence for apostolic succession. Excellent bibliography.
(Troitsky) Ilarion, Archbishop and Holy New Martyr, The Unity of the Church and the World Conference of Christian Communities. Montreal: Monastery Press, 1975. 72pp. The best overview on the issue of canonical economy, boundaries of the Church, etc. Archbishop Ilarion is incredibly lucid and Patristic.
Ware, Bishop KALLISTOS, The Orthodox Church. Crestwood, NY: St. Vladimir's Press, 1994 (1990), Ch. 12 "The Church of God."