Living an Orthodox Life: Confession
Proper Confession and Communion: a pamphlet prepared by the Russian Orthodox Cathedral of St. John the Baptist, Washington, DC.
Numerous Prayers and Articles on Confession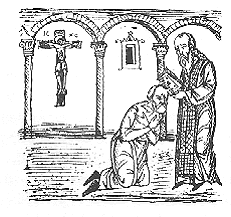 What Is Necessary for a Saving Confession?, by Metropolitan Innocent of Moscow.
Confession and Repentance: A Talk Given by Fr. Josiah Trenham at the 2006 Antiochian Clergy Conference (Diocese of the West).
Preparation for Confession, a list of questions for self-examination, by Saint Nicolas Varzhansky.
A Guide to Confession. A set of questions to help one prepare for the Mystery of Confession.
Have you ever wondered why the Priest says the following just prior to the prayer for the absolution of sins in Confession?: "Reconcile and unite him [or her] to Thy Holy Church, through Jesus Christ our Lord." To find out why read this excerpt from The Mind of the Orthodox Church.
Repentance and Confession, by Hieromonk Gregorios. Published by Newrome Press.
The Exomologetarion of St. Nicodemos the Hagiorite, by Protopresbyter George Metallinos, Professor [now Dean] of Theology, University of Athens.
How Everyone Should Prepare Before Confession, by St. Nikodemos the Hagiorite. An excerpt from the Exomologetarion: A Manual of Confession.
On Watchfulness, Prayer and Confession: A Homily by Elder Ephraim of Philotheou. Translated from the Greek by Fr. Seraphim Bell.
Recommended Books
Do You Have a Ticket?, by Metropolitan Cyprian of Oropos and Fili: a very concise and inspiring small book on confession in the Orthodox Church. Written in the style of the great saints of our Church. A must-have for any pious Christian. "Not Three Times a Year": a profound chapter on the importance of frequent confession (Ch. 11).
Confession, by Met. Anthony Khrapovitsky (Jordanville, NY: Holy Trinity Monastery): this was used as the primary reference for the section on Confession in the book A Guide to Orthodox Life and comes highly recommended by the author. It is mainly geared towards Priests (to teach them to be better confessors); however, there is a wealth of information for laypeople as well.
The Forgotten Medicine: The Mystery of Repentance, Archimandrite Seraphim Aleksiev.