Especially for Inquirers: Introduction
St. Elizabeth of Russia, Royal New-Martyr and Convert from Lutheranism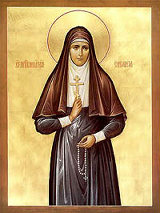 The "inquirers" pages have been set up as a missionary effort to provide information to non-Orthodox Christians who are interested in Holy Orthodoxy. These pages should be considered as supplements to the pages in the General Information section of the site.
I also provide some "convert testimonies " by those who have "made the journey." I have not written my own "journey story." I will only say briefly that I converted to Orthodoxy from a varied Protestant background after being introduced to it during a nine month stay at the Philadelphia Theological Seminary of the Reformed Episcopal Church. Before becoming Anglican I had been in the evangelical charismatic tradition for many years. I then discovered Calvinism, joining the Presbyterian confession for a few years until I was introduced to liturgy, the "sacramental worldview," and catholic ideas in general, mainly through the reading of Tom Howard's book Evangelical Is Not Enough: Worship of God in Liturgy and Sacrament. After thoroughly studying Orthodox theology and Church history at seminary, as well as experiencing the worship and prayer life of the Orthodox Church, I became convinced that it was the fullest and most pure expression of the apostolic Christian faith I could find. I believe it is the true, ancient Church—the very criterion of Christianity.
The key question "What is the Church?" is what drove my own journey. Basically, as my understanding of how the Church has always viewed Herself since the time of the Apostles grew, I became convinced that I could no longer remain a Protestant. This is briefly summarized in my response to Dan Clendenin's article in the January 6, 1997 issue of Christianity Today entitled "Why I'm Not Orthodox." At the time, the most important book I read during what I call my "intellectual pilgrimage" (the journey to Orthodoxy being one of both heart and mind) was Yves Congars' monumental Tradition and Traditions (a Roman Catholic work, though heavily influenced by the Eastern Church Fathers). The reason that it was so important is that it caused a "paradigm-shift" in the way I viewed Truth, its preservation, and its "handing down" (or in the Greek, paradosis). However, due to subsequent reading after becoming Orthodox, I now recommend that an inquirer first read the books listed in the section on Holy Tradition.
You may notice that I include many articles on the concept of the Church. This is because She is the "pillar and ground of the Truth" (1 Timothy 3:15—a verse which was always sidestepped or misunderstood in my Protestant experience). For more on why I emphasize the Church see my essay "The Church Is Visible and One".