General Information: Introduction
Introduction to Orthodoxy, excerpts from The Orthodox Church, by Bishop Kallistos (Ware).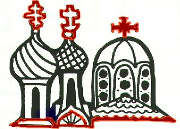 Theosis: The True Purpose of Human Life, by Archimandrite George, Abbot of the Holy Monastery of St. Gregorios of Mount Athos. Available in nine Languages!
The Orthodox Church: A brief overview of the Eastern Orthodox Church's history and teaching. Some contemporary moral questions are also addressed, as well as the subject of the church building.
GOA Web site: Our Faith. A collection of articles on various Orthodox Christian topics.
What is Orthodoxy?, by Archbishop Averky
The Way Into the Kingdom of Heaven, by St. Innocent of Alaska.
Recommended Books
The Orthodox Church, by Timothy [now Bishop Kallistos] Ware. This is arguably the best modern introduction to Orthodoxy in a single volume in English. You should be aware, however, of the numerous problems with this book (see the superb lengthy review by Hieromonk Patapios). The earlier editions of this book are best. Try to find a used copy of the 1963 or 64 editions.
The Precious Pearl: The Lives of Sts. Barlaam and Ioasaph, by St. John Damascene. This literary masterpiece of the eighth century was written with the purpose of drawing non-Christians to Christianity. It is an exceptionally pleasant catechism of the Orthodox Church and a treasure of Patristic wisdom. It was written as a sequence of interrelated stories in which the basic truths of life and the Christian faith are interwoven. Published by the Institute for Byzantine and Modern Greek Studies.
The Prologue from Ochrid, by the Blessed Hierarch Nicholai Velimirovich. This superb four-volume work contains, among other things, the following for each calendar day: the Lives of Saints, some theological or moral instruction for consideration, and a homily. His Grace has woven the items for each day into a Spirit-breathed tapestry that perfectly and inspirationally presents the Orthodox Faith as a Gestalt. To read these four volumes is to catch a glimpse of Orthodoxy that few other books can provide. Although it is best to have your own copy for easy access daily, the Serbian Orthodox Church, in which Bishop Nicholai served, has kindly put the entire four volumes on the Internet.