Living an Orthodox Life: The Church in the Home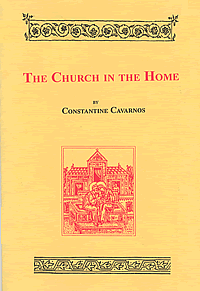 The Church in the Home, by Dr. Constantine Cavarnos. This 20-page monograph is essential reading for all Orthodox Christians. From the Introduction: "There are families who have built chapels inside their homes, meaning a type of small christian church with an iconostasis, a Holy Table, and all that is required to conduct the Divine Liturgy. In general, these are families of great piety who are well-off and have large homes. This is not the situation I have in mind when I use the phrase "church in the home." I am simply referring to certain things we should have in our homes which are found and used in an Orthodox church that aid in our coming to greater knowledge of our Orthodox faith and in our efforts to progress in the life in Christ. I will explain each of these to you one by one."
The Christian Home: Ch. VI from the book Marriage and the Christian Home, by the Rev. Michael B. Henning (St. Nectarios Press, 1987). Look up information on the following topics:
Why Do We Have Our Homes Blessed? by Phyllis Meshel Onest. Orthodox Family Life, Vol. 4, No. 2.
Getting Ready for Home Blessing, Orthodox Family Life, Vol. 4, No. 2.
Why Are Vigil Lamps Lit Before Icons?, by St. Nikolai Velimirovich.
The Ikon in the Home, an excerpt from Stephen Graham's book Undiscovered Russia. From Road to Emmaus No. 13 (Spring, 2000).
Prayer Life in an Orthodox Home, by Archpriest Roman Lukianov.
A Sermon on Reading Spiritual Works, by Archbishop Platon of Kostroma.
When No Priest is Available: Reading the Service Books While Traveling or at Home, by Archpriest Sergei Shukin
On the Problem of Television
On Television: Comments by Various Saints and Holy Elders.
Television, by Archbishop Vitaly. A very insightful critique.
The Cyclops That Eats Books. On Television.
Children and Television: by Novice Joseph. From the first few issues of Orthodox Tradition.
If you want to watch less TV and read more great books, one idea is to read to your children a good Charles Dickens novel, such as Pickwick Papers. To that end, I highly recommend another Road to Emmaus article entitled "Russian Pickwickians: Dickens from an Orthodox Vantage".