General Information: Miscellaneous Resources
Holy Monastery of the Pantokrator, Melissohori (Thessaloniki), Greece. A wealth of traditional articles and books!
OrthodoxPhotos.com
: Hundreds of photos of Holy orthodox spiritual fathers, Holy relics, Israel Holy Land, monasteries and churches, orthodox
wonders, Godbearing fathers, icons and frescoes, and also photos of the orthodox monastic life. Video material available too, plus many
others.
Liturgical Resources: listed near the bottom of the linked page.
A Study of English Orthodox Theological Terms Compared to the Original Greek, by the Holy Monastery of St. Gregoriou, Mount Athos.
Holy Trinity Orthodox School, an online "seminary" organized by Bishop Alexander of the Russian Orthodox Church Abroad. The site contains numerous theological texts as HTML and Word (.doc) files.
Orthodox Christian Resources on the Internet, by Catherine Hampton.

Orthodox England, a superb Orthodox resource, with many articles and Lives of Western Saints.
The Shepherd, an excellent Orthodox publication from England.
OrthodoxChristianity.Net Web Community.
Monachos.Net: Vast collection of well-organized resources. By Matthew Steenberg.
Orthodoxy in China. All about Chinese Orthodoxy, in English, Russian and Chinese.
Orthodoxy Today: Commentary on Social and Moral Issues of the Day.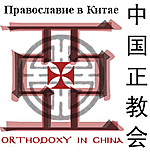 Saint Nicodemos Publications: books, articles and sermons.
Back issues of the excellent periodical Orthodox America.
Sts. Constantine & Helen Greek Orthodox Church: the Web site of Fr. Demetrios Serfes.
Orthodox America: a real gold mine of traditional Orthodox articles.
Eastern Orthodox Lecture Series: Audiobooks, lectures and more.
Orthodox Heritage: excellent traditional content.
The Cathedral of St. John the Baptist: a wealth of information on a nicely designed site.
Orthodox Missionary Booklets: a huge list of booklets with full online text in Russian, English, and Spanish.
Orthodox Writings in German, translated by Johannes Wolf.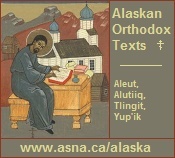 Alaskan Orthodox Texts: An ongoing project offering Alaskan Orthodox texts in their original languages (Aleut, Alutiiq, Tlingit, Yup'ik). These texts were written by Sts. Innocent (Veniaminov) and Jacob (Netsvetov) and others.
The Orthodox Net: from St. Nicholas Orthodox Church in Dallas, TX. Don't miss this site. Fr. Seraphim Holland has provided a wealth of excellent information found nowhere else on the web: "Redeeming the Time" (an [almost] weekly journal), "Thoughts on the Gospels" (homilies on the Epistle and Gospel readings), and the "Question and Answers Quiz" (covering a wide range of topics). This is well worth a lengthy visit!
Pascha Polyglotta: a wonderful Web site for finding "Christ is risen! Indeed He is risen!" in approximately 250 languages.
Christian Classics Virtual Library: the 38 vol. Church Father set, and more! You can now search the Fathers set using keywords.
The Christian Activist: a journal of Orthodox opinion.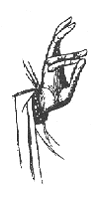 The Conferences of St. John Cassian, Trans. and notes by Edgar C.S. Gibson.
The Explanation of the Four Gospels, by Archbishop Averky (Tauchev). Translated by Seraphim Larin.
Byzantine Studies: extremely comprehensive.
Eastern Churches Study Sites, from Princeton University.
Arxodariki: Orthodox Spiritual Lectures. This site from Greece contains many edifying services, homilies and lectures in English. You'll want to click the British flag to get the English version.
Orthodox Electronic Publishing Society. This organization is dedicated to bringing high quality educational materials for Orthodox Christians to the Internet. Established by Peter Serko and home of the invaluable "Church Slavonic E-Tutor."
Orthodox Christian Cassettes, Inc.: a large free loan library of audio tapes on various Orthodox topics.
Liturgical Resources for Clergy and Cantors. The Web Site of the St. Raphael Clergy Brotherhood of the Diocese of Wichita and Mid-America0. Maintained by Bishop Basil of Witchita.