Death & the Future Life: Modern Views & NDEs
Before reading these articles it is suggested that one
first read A Few Words Concerning Orthodox "Death Literature". Also, Fr. Seraphim Rose deals heavily with the modern near-death experience phenomenon in his book The Soul After Death.
St. Sisoes the Great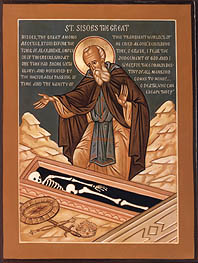 by the hand of Fr. Theodore Jurewicz
The "Near-Death Experience", by David Ritchie
Unbelievable for Many, But Actually a True Occurrence: An individual's description of his having been restored to life after being dead for over 36 hours. It was published by Mr. K. Uekskuell in the "Moscow Journal" towards the end of the last century. In 1916, Archbishop Nikon, a member of the Holy Synod, reprinted the article in his publication "Trinity Pages" with the following comments: "In regard to this narrative, in due time, we had correspondence with its author, who, after ascertaining its validity, testified that his subject, after relating his experience, entered into a monastery. In view of the fact that nothing in his narrative is in contradiction to the stand of the Church on the mystery of death and the life beyond death, we feel it beneficial to reprint this article as a separate publication."
A Miracle Which Took Place in Russia: another modern Orthodox near-death experience.
A Return from the Dead in Contemporary Greece, by Archimandrite [now Metropolitan] Cyprian of Fili.
Review of the movie What Dreams May Come, starring Robin Williams and Annabella Sciorra. Reviewed by Protopresbyter David Cownie.
Review of the movie Ghost , starring Patrick Swayze, Demi Moore, and Whoopi Goldberg. Reviewed by Protopresbyter David Cownie.
"Sisoes, great among the ascetics, stood before the tomb of Alexander, Emperor of the Greeks, who at one time had shone with glory; and horrified by the inexorable passing of time and the vanity of this transient world, "Lo!" he cried aloud, "beholding thee, O Grave, I fear the Judgment of God and I weep, for the common destiny of all mankind come to mind!... O Death, who can escape thee?"
The Inscription on the Icon
"Alexander died, Alexander was buried, Alexander returneth into dust; the dust is earth; of earth we make loam; and why of that loam whereto he was converted might they not stop a beer-barrel?
"Imperious Caesar, dead and turn'd to clay,
Might stop a hole to keep the wind away:
O, that that earth which kept the whole world in awe
Should patch a wall to expel the winter's flaw!"
Hamlet, Prince of Denmark,
by William Shakespeare (Act V, Scene I)