Death & the Future Life: Love & Respect for the Dead
The Church's Prayer for the Dead, from Orthodox Life (1978).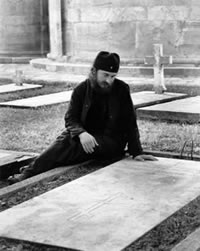 Protect the Graves of Your Loved Ones, Orthodox Life (1991).
Excerpts from The Soul After Death, by Fr. Seraphim Rose of Platina. Prayer for the Dead, What We Can Do for the Dead, and the Resurrection of the Body.
Pray for the Reposed!, by the New Hieromartyr John of Riga
Concerning the Honor Due to the Saints and Their Remains, by St. John of Damascus
Relics and Mummies, a Q&A from Orthodox Tradition concerning relics.
On the Veneration of the Holy Relics and Remains of the Saints, by Archpriest Vasily Demidov. Orthodox Life, 1980.
The Place of Holy Relics in the Orthodox Church, by St. Justin (Popovich) of Chelije
Every act and miraculous energy of Christ is very great and divine and marvelous, but the most amazing of all is His precious Cross. For death was not abolished by any other means; the sin of our forefather was not forgiven; Hades was not emptied and robbed; the resurrection was not given to us; the power to despise the present and even death itself has not been given to us; our return to the ancient blessedness was not accomplished; the gates of Paradise have not been opened; human nature was not given the place of honor at the right hand of God; we did not become children and inheritors of God, except by the Cross of our Lord Jesus Christ alone. All these have been achieved by the death of the Lord on the Cross.
—Nikolaos P. Vassiliadis, The Mystery of Death, p. 143